Ceres Madoo
Guest Lecture: Longenecker-Roth Artist in Residence
November 2, 2023
6:30 - 8:00 p.m. PDT
Center Hall, Room 119, UC San Diego
Free & Open to the Public! Light catering will be available.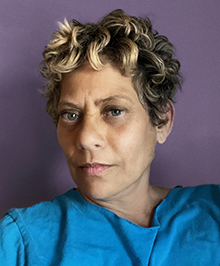 Ceres Madoo is a Los Angeles based mixed media artist, who describes herself as a mix of a mix. West Indian, American, Black, Indian, Jewish and Mormon, like her art work, Ceres' personal identity defies categorization. With a BA from UC San Diego ('89) and an MFA from Rutgers University, her conceptual, fluxus, critical educational roots happily collide with her inherent interests in non-western art, folk and craft methodologies. Ceres teaches and works in all mediums. This year, her primary focus has been in working in ceramics and painting with a re-imagination of what it means to be a human creature.
https://cargocollective.com/ceresmadoo/
---

The Longenecker-Roth Artist in Residence Endowment was established in 2016 to extend Martha Longenecker-Roth's legacy as an artist and educator. In the spirit of her historic impact on the visual arts in both local and global communities, this endowment brings to the Visual Arts Department of UC San Diego artists of national and international stature who will inspire our students to broaden the scope, appeal, and range of art as well as incite exchange with the faculty, the campus community and local artists and audiences.
This program celebrates the life and legacy of Martha Longenecker-Roth, and her historic impact on the visual arts in San Diego and beyond. Martha's passionate commitment to meaningful cross-cultural exchange, long before it became widely fashionable, led her to found the Mingei Art Museum and established its permanent home in San Diego's Balboa Park. The stated mission of the museum – to bring the "art of the world, art of the people" to everyone – came from Martha's own lived experience.
Through the Longenecker-Roth Artist in Residence program, the vision of art, culture and the world so dear to Martha will make a lasting impact on interdisciplinary art education in the Visual Arts Department at UC San Diego.  As a lifelong learner, Martha Longenecker-Roth regularly attended exhibitions and lectures organized by and for UC San Diego faculty and students. She was fascinated by technology new and old, and believed in the importance of interdisciplinary education. Thus, it is our honor to host the residency program which will bring to campus artists whose practices are grounded in an understanding of the power of art to connect diverse peoples. It is toward this commitment to diverse traditions and cultural interconnectedness that the Longenecker-Roth Artist in Residence program is founded and inspired through the impact made to the visual arts through the life of Martha Longenecker-Roth.