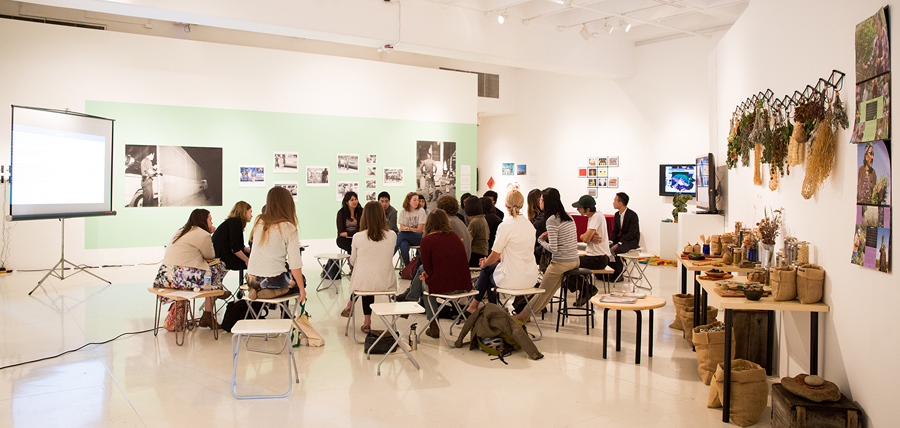 Graduate Research Colloquium
PhD Program in Art History, Theory, and Criticism
February 26, 2021
1:30 - 5:00 p.m. PST
YouTube Stream: https://youtu.be/SM6syyFvxF8
February 27, 2021
10:00 a.m. - 12:30 p.m. PST
YouTube Stream: https://youtu.be/HVuodpmEfrw
Many PhD students are actively engaged in presenting their research to a wider world at conferences and symposia at other universities – but not their home institutions. The Graduate Research Colloquium is meant to overcome this atomization or privatization of intellectual work, in a forum where the excitement and energy of individual projects can become known inside the local community. Advisors will briefly introduce and provide their own reflections on the project, since the Advisor is in a unique position to see where the project lies in relation to the wider field, and to describe the contribution the project will make to the discipline as a whole.
---
Friday, February 26, 2021
---
1:30 p.m. Introductory Remarks from Professor Kuiyi Shen
---
1:35 p.m. Tiffany Beres
Modern Antiquity: Chinese Bogu Painting in the Late Qing and Early Republic
My dissertation project aims to excavate and explore an art form that has nearly disappeared—a genre of Chinese painting known colloquially as bogu, frequently translated as "ancient erudition" painting. Composite in nature, these pictorial works comprise three-dimensional rubbings of artifacts together with watercolor paintings. Widespread and popular among literati tastemakers in the late nineteenth and early twentieth centuries, bogu paintings disappeared after the founding of the People's Republic of China in 1949. Today, perhaps because of their unconventional hybrid appearance, they continue to be overlooked by art historians in both China and the West. Up to now, the lack of written records beyond the paintings themselves has shrouded the history and origins of bogu and made them a mystery. Emerging at a time of great social and economic flux, bogu paintings are living examples of the ways in which art can transform antiquity into a modern visual language. My research draws unprecedented attention not only to the aesthetic impact ancient art had on late Qing culture but also to the ways in which artists shaped the contemporary experience of antiquity.
Respondent: Kuiyi Shen
Tiffany Beres is Asian art curator and art historian who has worked on over thirty exhibitions around the world. Her current area of research is modern Chinese painting, with a special focus on visual culture in its global context.
Image: Rubbings from Bronzes with Painted Flowers, Lin Fuchang, circa 1860, Qing dynasty
Source: MFA Collection, Gift of the Wan-go H. C. Weng Collection and the Weng family
---
2:05 p.m. Shoghig Halajian
Queer of Color Entanglements: On the Spatial Politics of rafa esparza's bust. a mediation on freedom
My presentation focuses on the practice of Los Angeles-based contemporary artist rafa esparza, whose public performances explore urban spaces of state-sanctioned violence and dispossession. The intended audience of these site-specific performances is often the people who routinely occupy the locale in which they are staged. esparza's performance/installations employ adobe, a vernacular material and building process, and invite other queer and Latinx cultural producers to realize large-scale collective projects to foster informal networks of support outside of a strictly institutional framework.
I focus in particular on the 2015 performance, bust. a meditation on freedom, which took place across the street from the Twin Towers Correctional Facility (also referred to as Twins Tower Jail) in the Chinatown neighborhood of Los Angeles. In the course of the performance, esparza is encased in concrete and gravel up to his chest, transformed into the image of a portrait bust, and then tasked with the arduous work of breaking himself free with only a hammer and chisel. I theorize this work through a queer of color analytical lens, exploring how performance might reconceptualize political liberation beyond a rights-based agenda and propose coalitions across seemingly disparate fields of social activity.
Respondent: Alena Williams
Shoghig Halajian is a curator, co-director of the nonprofit arts space Human Resources LA, and co-editor of the online journal Georgia. Her research inquiry is informed by her curatorial work with artists—in 2015 she curated the exhibition, i have never been here before, by rafa esparza at LACE (Los Angeles Contemporary Exhibitions).
Image: rafa esparza, bust. a mediation on freedom, 2015, performance documentation. Image courtesy of Johanna Breiding.
---
2:35 p.m. Viona Deconinck
Reading 21 Etchings and Poems
My thesis studies artist books which are deemed unreadable by the standards of regular books and I will be presenting my second chapter, 21 Etchings and Poems by Peter Grippe, a book that also presents several barriers, both linguistic and intellectual. The publication assembles work by 42 artists working in very different styles in different periods. In an interview, one of the artists, Pierre Alechinsky, admitted he didn't even know that the work as a whole existed: he was only aware of his collaboration with Christian Dotremont. The difficulty in reading 21 Etchings and Poems lies in determining what exactly ties it together.. It represents a kind of summa of the possibilities of playing with art, especially with the relation between word and image. In the same year the portfolio was published, James Johnson Sweeney, formerly a curator at the Museum of Modern Art and the second director of the Solomon R. Guggenheim Museum (1952-60), wrote: "What gives a living artist interest is his success in keeping his language as fictile as possible — in expanding the frontier of expression by directing a certain fluid force against circumstance. And finally through conception rather than mere reflection and observation. All this goes to make up the surface aspect of poetry and painting — its vocabulary and imagery. And if these are alive they must be constantly changing and refreshed." The portfolio seems to bear witness to what Sweeney writes here, offering a powerful juxtaposition of art works, within an abundantly rich larger structure. Very few art works from the period are as diverse as this portfolio as it features pieces made across the span of an entire decade.
Respondent: John Welchman
Viona Deconinck is a fourth year Art History PhD student, she has a background in literature and film, her thesis focusses on methods of reading artist books.
Image: Pierre Alechinsky with Christian Dotremont In-text plate (folio 4) from 21 Etchings and Poems 1952, published 1960
Medium: Etching and engraving from an illustrated book with 14 etchings (six with aquatint, four with engraving, one with drypoint), two aquatints, two engravings, two drypoints, and one photogravure
Artist: Pierre Alechinsky, Author: Christian Dotremont
---
3:05 p.m. Yi Liu
China: The Staging of a Nation Through the Making of a Book
My dissertation probes the role of photobooks in (re)constructing the visual representation and knowledge production of China by tracing the nation's transformation from the 1920s to 1950s. Pondering the tension, negotiation, and competition among the disparate stances in visualizing and cataloging China, this paper concentrates on an iconic photobook, simply titled "China," published in 1959 to commemorate the tenth anniversary of the founding of the People's Republic of China. Initiated by the Chinese Communist Party, China was to showcase the nation's first decade of accomplishments as well as its centuries-old heritage. The official editorial board envisioned it to be a diplomatic gift — both representation and representative of China. My study intends to contextualize the book's compelling nationalist sentiment by historicization, intertextuality, and through the framework of materiality, pondering how the multifaceted objecthood of the book and the embodied reading of it encapsulate the symbolism of nationhood in Maoist China during the 1950s.
Respondent: Kuiyi Shen
Yi Liu's research focuses on the visual culture of China since the 19th century with an evolving interest in the history of photography. Her Ph.D. dissertation studies the contention and confluence of the visual and material representation of China in photobooks in the first half of the 20th century.
Image: China. Publisher unknown, 1959. 30 x 38cm, 562 pages, black-and-white and color photographs, deluxe edition, clothbound in cloth box, two editions
---
3:35 - 3:45 p.m. TEN MINUTE BREAK
---
3:45 p.m. Alumni Keynote Speaker: Mariola Alvarez (PhD '12; Assistant Professor, Temple University)
Manabu Mabe and Tomie Ohtake: Two Case Studies of Postwar Brazilian Art
Dr. Alvarez will present her current research project on the art of the Japanese diaspora in Brazil. Comparing the work of two immigrant artists, Tomie Ohtake (b. Kyoto, 1913-d. São Paulo, 2015) and Manabu Mabe (b. Kumamoto, 1924-d. São Paulo, 1997), Alvarez explores the development of abstract art as a transnational practice, a negotiation between styles and traditions from Japan, Brazil, and France. The existing scholarship on Brazilian art has overwhelmingly favored the history of Concrete and Neoconcrete art, while Informalism and Tachisme in Brazil remains understudied. One possibility for this neglect may be the large number of Japanese immigrant artists working in this style and the inability or willful disregard of historians to consider their lived experiences and the ways in which they assimilated East Asian traditions into their work, therefore revealing how ethnicity as part of artmaking was made absent. The presentation will study the early careers of Ohtake and Mabe, comparing their styistic developments and divergences.
---
Saturday, February 27, 2021
---
10:00 a.m. Introductory Remarks from Professor John Welchman
---
10:05 a.m. Alexis Hudgins
Reality Television as Model: Affective Labor and the Production Process
In 2003, the now defunct broadcast network UPN previewed its forthcoming season, which included a relatively unknown reality TV program—America's Next Top Model. This preview took place during a hinge moment between two significant strikes by the Writers Guild of America—the first in 1988, which along with the popularity of cable TV eventually gave way to early 2000s reality programming including shows like Survivor; and the second in 2007–2008, which similarly encouraged an increase of unscripted content, leading to increased scrutiny of labor practices in the field.
My dissertation project attempts to understand the making of reality television during this time—specifically competition and documentary style series—as embodying a different form of labor relations than both the scripted content that preceded it, and the more produced reality television programs that came directly after. As researcher, I use my personal experiences from working on these types of productions alongside theories of affective labor. As an example, camera operators not only perform their technical roles, but also track inter-personal relations occurring on set in anticipation of narrative; while cast members similarly produce themselves on camera. While there have been several studies considering affective labor and neoliberalism within the production process of reality television, I build on this work by examining: first, "prosthetic friendships" that are not traditionally mutual, but instead produced; second, the collaborative nature between producer and produced, particularly in the interview; and third, how these types of relationships come to be through the quasi-psychoanalytic nature of transcription.
Respondent: John Welchman
Alexis Hudgins' practice co-opts methods used in the production of reality TV to generate new forms through installation, video and performance. Using her experience as a producer for reality television and artist Paul McCarthy, her work explores the similarities and ruptures between the experienced and the produced; less as a critique of media culture than an expression of it.
Image: Alexis Hudgins as stand-in for UPN president Dawn Ostroff during technical rehearsal of UPN Prime Time Upfront 2003/2004, Madison Square Garden, 2003
---
10:35 a.m. Christoph Rodrigo de la Torre
Prior Art: The Lasting Effects of Stroboscopic Photography

The history of photography as a technology since its breakthrough in the 1830s is often told in numbers marking the innovative milestones on the path of progress: smaller cameras, more cameras, faster development of the image, longer lasting photos, increasing apertures, and – most importantly – the dramatic increase in the speed of photography by ever shorter exposure times. The technological race to accelerate photography has reached its (interim) pinnacle in 1933, when Harold E. Edgerton first filed to patent his re-invention of the stroboscope that paved the way for high-speed photography.
Proto-cinematic devices such as Joseph Plateau's phenakistiscope and Simon Stampfer's stroboscope (both ca. 1832) operated on the intermittent obstruction and illumination of the view, but Edgerton's stroboscope resembled its predecessors only in principle. Instead of a spinning wheel, as I will show using patent filings, his device featured a powerful battery, sensors, and a tube filled with rare gas. More importantly, he constructed it for the inverse purpose of making rapid motion appear as still. The resulting images of humming birds, golfers, and bullets captured in flight are emblematic for the merging of art and science; his high-speed technology is recognized for its profound impacts across multiple disciplines. But the defining – and thoroughly modern – notion of increased speed, as I will argue, falls short in capturing the full functioning of the stroboscope and its consequences for photography. Images shot at a millionth of a second, rather than reducing the photographic instant, expanded it to a film in a single frame – generated at the intersection of sensory devices, (photo)electricity, and moving bodies.
Respondent: Lisa Cartwright & Alena Williams
Christoph Rodrigo de la Torre traces the histories of generative practices and technologies by (non)artists across media, genres, periods and borders. Christoph's work includes research on the global role of contemporary artists in law and an ongoing project on public sculpture, art history and gender in Germany.
Image: Harold E. Edgerton. High-Speed Flash-Photography. US Patent 2,408,764, filed June 14, 1940, and issued May 6, 1946
---
11:05 - 11:15 p.m. TEN MINUTE BREAK
---
11:15 a.m. Yiqing Li
On the Path to Chouxiang: The History of Twentieth-Century Chinese Abstraction
How to position China on the map of global abstract paintings, along with the early twentieth-century European abstraction, postwar American Abstract Expressionism, Japanese Gutai art, Korean Monochrome paintings, and Latin-American abstraction? At the intersection of modernism and postmodernism, abstract art mirrored and participated in a series of dramatic social and cultural changes in twentieth-century China. Despite the socio-cultural significance, the historical narrative and cultural context of Chinese abstraction have not been established.
This dissertation explores the historical and social forces instrumental in shaping Chinese abstraction in the twentieth century. The fundamental issues to be resolved are multiple: when did abstract art first emerge in China? What were the irreducible aesthetics embedded in Chinese abstract art? Why did this para-official, unorthodoxy art grow to be a significant trend in contemporary China? How can the history of Chinese abstraction complicate our understandings of the dualist models, namely East versus West, tradition versus modernity? The dissertation's five chapters, composed in chronological order from the early twentieth century to the contemporary age, seek to address these issues and provide a different mode of abstraction that can contribute to the diversity of global abstract art.
Respondent: Kuiyi Shen
Yiqing Li is a Ph.D. candidate majoring in art history, theory, and criticism at the University of California, San Diego (UCSD). Her dissertation research focuses on twentieth-century Chinese abstract painting.
Image: Wu Dayu (1903-1988), untitled work, undated, colored pencils on paper, 13 x 8 cm. Photography by Yiqing Li
---
11:45 a.m. Jonah Gray
In the Space Provided: Historicizing Brian Jungen's Wall Drawings
My current research centers around a series of wall works by Brian Jungen (Dane-zaa; b. 1970), one of the most prominent contemporary artists currently working in Canada. Jungen's signature works are sculptures and installations, which have been shown at Documenta, the Tate Modern and around the global biennial circuit. The wall works are a rare two-dimensional exception within his mostly sculptural oeuvre that he has consistently revisited and reimagined over the last two and half decades. The work's motifs are based on crude sketches, which Jungen gathers by soliciting drawings from passers by on the street. By prompting them to "draw an example of Native art" or "what you know about the Native Peoples of British Columbia," he obtains samples ranging from earnest efforts to reproduce canonical works of Indigenous art to sheer racist fantasies.
My presentation for the colloquium will locate these works in relation to a history of official state art in Canada. Contrasting Jungen's wall works with a controversial program of murals painted in the 1930s at the British Columbia Legislature, I will draw out how the definition of official art has changed from commissions to decorate state buildings to the decentralized, entrepreneurial mode of the state-funded, but critical and reflexive model Jungen exemplifies. I propose that Jungen's invocation of the mural form and his attention to the unconscious stereotypes of his anonymous collaborators help plot a changing relationship of the public to the familiar misrecognitions of a white-supremacist gaze that continues to be mobilized in support of the modern settler-colonial state.
Respondent: John Welchman
Jonah Gray is an art historian, curator and PhD candidate at UC San Diego.
Image: Brian Jungen, Wall Carvings, 2006, mixed media, dimensions variable. Installation view, Vancouver Art Gallery, Vancouver, 2006
---