Academic Opportunities
The Visual Arts Department encourages students to take advantage of opportunities outside of formal classes to build upon learning outcomes, get involved with the department community, and participate in experiential learning opportunites.
Each Spring, the graduating class of the Visual Arts and Music departments' ICAM (Interdisciplinary Computing and the Arts) program have the opportunity to participate in the ICAM Senior gallery show at the Kamil Gallery in Mandeville Center. This show features works like short films, sculptures, interactive games, projection mapped installations, and more.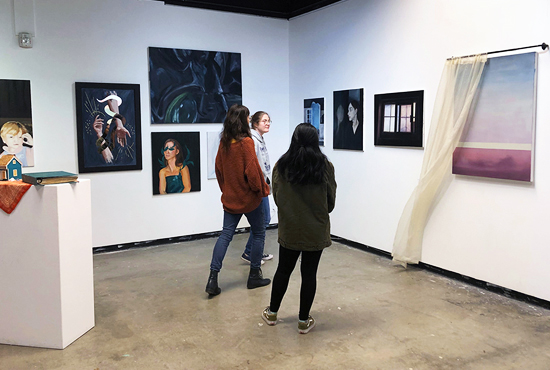 KAMIL GALLERY ONLINE
The Adam D. Kamil Gallery is now also online. This gallery is a site for undergraduate art shows and hosts the annual reception and exhibition for students that participate in the Adam D. Kamil Media Awards. Visual Arts majors and minors at the junior or senior level are eligible to submit a proposal to show in the Kamil Gallery for one week during the academic school year. Past online exhibitions remain viewable with the artists' permission.