News & Events
---
Exterior Screen Group Exhibition
July 1 - October 2, 2023
Mandeville Art Gallery, UC San Diego
Nature Scene is a program presented on the Mandeville Art Gallery's exterior screen featuring work by digital artists that have been commissioned or specifically adapted for the space. The works use artificial intelligence, generative algorithms, 3D scanning, and more to depict the influence of technological evolution on the staging and mediation of the natural world.
---
Fall 2023
---
Group Exhibition
Reception: October 7, 2:00 - 6:00 p.m.
October 7 - December 9, 2023
Mandeville Art Gallery, UC San Diego
The group exhibition How We Gather investigates the notion and realization of "solidarity" across various contemporary artists' practices through the lens of the pandemic, wherein collaboration and mutuality are key to the ideation and production of the artwork. The opening reception includes a new commission by Elana Mann and Sharon Chohi Kim, performed by the San Diego New Verbal Workshop.
---
Organized by PhD candidate Jae Hwan Lim
October 9, 2023 - January 31, 2024
Geisel Library, Main Floor, West, UC San Diego
Underlining the existence and everyday life of North Korea and its people, the physical materials in this exhibit invite open and critical thought exchanges about the country, where outsiders can rarely visit.
https://library.ucsd.edu/news-events/events/mundanity-of-north-korea-exhibit/
---
Recent Publications
---
By Professor Grant Kester
In The Sovereign Self, Grant H. Kester examines the evolving discourse of aesthetic autonomy from its origins in the Enlightenment through avant-garde projects and movements in the nineteenth and twentieth centuries. Kester traces the idea of aesthetic autonomy—the sense that art should be autonomous from social forces while retaining the ability to reflect back critically on society.
---
By Professor Jordan Crandall
Autodrive is a work of literary fiction that melds techno-scientific inquiry and storytelling, critical theory and comedy, speculative fiction and satire. It is a road novel of sorts, an odyssey along the highways at a time when a new form of superintelligence has emerged.
---
By Professor John C. Welchman
A study and a guidance device, the first book on the Royal Book Lodge (RBL) is the culmination a three-year exploration by art historian and cultural commentator John C. Welchman. It examines the contribution of the RBL to an array of art, film and performance practices including photography, ceramics, writing, and publishing—centered on the creation of artist books and the powerful and wide-ranging dialogue and material experimentations they engender.
---
By Professor Teddy Cruz & Fonna Forman
With these thirty short, manifesto-like texts—building blocks for a new kind of architecture—Spatializing Justice offers a practical handbook for confronting social and economic inequality and uneven urban growth in architectural and planning practice, urging practitioners to adopt approaches that range from redefining infrastructure to retrofitting McMansions.
---
By Associate Professor Nicole Miller
This first monograph on artist and filmmaker Nicole Miller focuses on a single sculpture by the artist: Michael in Black (2018). This book brings together a cohort of writers and other artists through newly commissioned texts and works for the page, as well as republished texts and images that exist as their own whole.
---
Founded & Edited by Professor Grant Kester
We are living through a singular cultural moment in which the conventional relationship between art and the social world, and between artist and viewer, is being questioned and renegotiated. FIELD responds to the remarkable proliferation of new artistic practices devoted to forms of political, social and cultural transformation.
---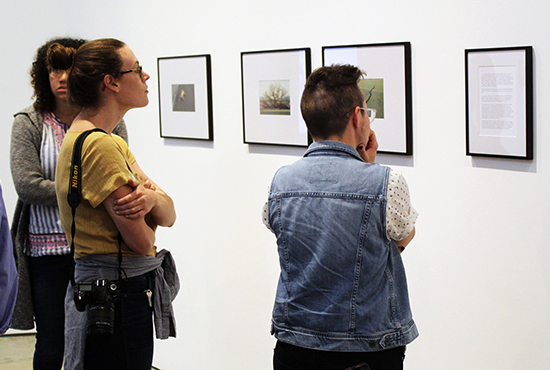 GRAD EXHIBITIONS ONLINE
This site includes documentation of solo thesis shows from graduating MFA students as well as First Year Reviews. Past exhibitions include the 2022 & 2021 Open Studios and the 2021 & 2020 graduating MFA exhibitions.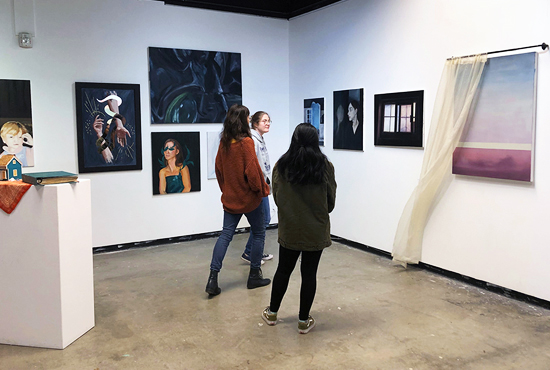 KAMIL GALLERY ONLINE
The Adam D. Kamil Gallery is now also online. This gallery is a site for undergraduate art shows and hosts the annual reception and exhibition for students that participate in the Adam D. Kamil Media Awards. Visual Arts majors and minors at the junior or senior level are eligible to submit a proposal to show in the Kamil Gallery for one week during the academic school year. Past online exhibitions remain viewable with the artists' permission.