News & Events
---
Guest Lecture
April 6, 2023
6:30 - 8:00 p.m. PDT
SME 149, Structural & Materials Engineering Building, UC San Diego
Tourmaline is an activist, filmmaker, and writer. Her work highlights the capacity of Black queer and trans people and communities to make and transform worlds. Tending to the histories and haunts of disabled, poor, Black, queer, and trans life that echo and vibrate beneath neighborhoods and cultural landmarks, Tourmaline's films undulate between narrative and non-narrative and illuminate the mundane acts that form the fabric of historical events and mutually supportive communities.
Co-sponsored by the Black Studies Project.
---
Amir Saadiq MFA Thesis Exhibition
April 13 - 21, 2023
Reception: April 15, 5:00 - 7:00 p.m.
By appointment: amir@asaadiq.com 
Main Gallery, Visual Arts Facility, UC San Diego
Summoning the interstice spaces between invisibility, erasure, and ubiquitous presence, Amir Saadiq bestows the ontological irreconcilability of Blackness amongst emotionally rich abstractions positioned within America's haunting historical landscape body through literal and figurative structures of violence. This exhibition is rooted in Frantz Fanon's colonialism as domination and Orlando Patterson's concept of natal alienation.
---
Maria Mathioudakis MFA Thesis Exhibition
April 14 - 21, 2023
Reception: April 15, 6:00 - 8:00 p.m.
By appointment through April 30: mmathiou@ucsd.edu
SME Gallery, Structural & Materials Engineering, UC San Diego
Immanent a show by artist Maria Mathioudakis features solo works and works produced as DIA PHANO*. Through digital drawings, glass sculptural works and performance Immanent examines the complicated legacy of the Federation of Feminist Women's Health Centers' practice of self-examination. DIA PHANO is a collective of artists Claire Anderson, Maria Mathioudakis and Grace Wardlaw.
---
Guest Lecture
May 9, 2023
6:30 - 8:00 p.m. PDT
SME 149, Structural & Materials Engineering Building, UC San Diego
Ligia Lewis works as a choreographer conceiving and directing experimental performance. Lewis's works, often marked by physical intensity and humor, seek to animate subjects through a process that disrupts normative conceptions of the body while negotiating the ghostly traces of history, memory, and the unknown.
Co-sponsored by the Black Studies Project.
---
Ceremony: May 19, 2023, 5:30 - 8:30 p.m.
Exhibition: May 17 - May 25, 2023
Adam D. Kamil Gallery, Mandeville Center, UC San Diego
The Kamil family, Department of Visual Arts, and School of Arts and Humanities at UC San Diego invite you to the 13th Annual Adam D. Kamil Media Awards Ceremony. Please join us for an evening of film and creativity to honor the memory of Adam Douglas Kamil and showcase the talent of undergraduate UC San Diego students.
---
Recent Publications
---
By Professor John C. Welchman
A study and a guidance device, the first book on the Royal Book Lodge (RBL) is the culmination a three-year exploration by art historian and cultural commentator John C. Welchman. It examines the contribution of the RBL to an array of art, film and performance practices including photography, ceramics, writing, and publishing—centered on the creation of artist books and the powerful and wide-ranging dialogue and material experimentations they engender.
---
By Professor Teddy Cruz & Fonna Forman
With these thirty short, manifesto-like texts—building blocks for a new kind of architecture—Spatializing Justice offers a practical handbook for confronting social and economic inequality and uneven urban growth in architectural and planning practice, urging practitioners to adopt approaches that range from redefining infrastructure to retrofitting McMansions.
---
By Associate Professor Nicole Miller
This first monograph on artist and filmmaker Nicole Miller focuses on a single sculpture by the artist: Michael in Black (2018). This book brings together a cohort of writers and other artists through newly commissioned texts and works for the page, as well as republished texts and images that exist as their own whole.
---
Founded & Edited by Professor Grant Kester
We are living through a singular cultural moment in which the conventional relationship between art and the social world, and between artist and viewer, is being questioned and renegotiated. FIELD responds to the remarkable proliferation of new artistic practices devoted to forms of political, social and cultural transformation.
---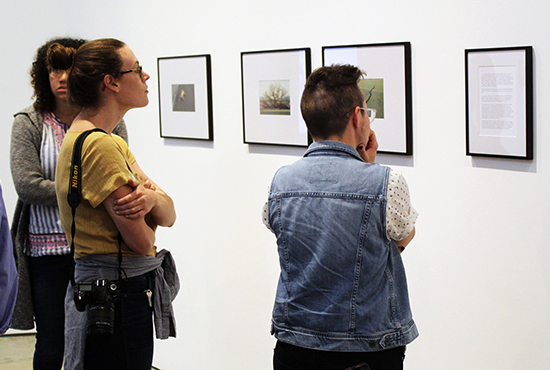 GRAD EXHIBITIONS ONLINE
This site includes documentation of solo thesis shows from graduating MFA students as well as First Year Reviews. Past exhibitions include the 2022 & 2021 Open Studios and the 2021 & 2020 graduating MFA exhibitions.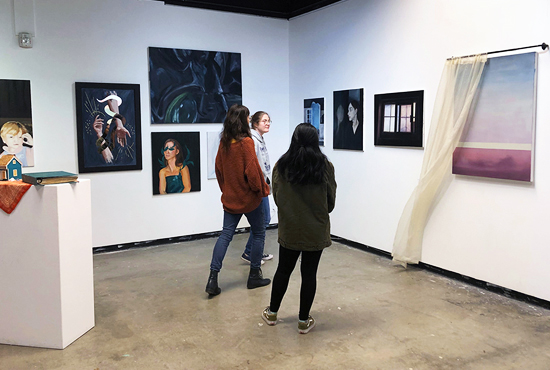 KAMIL GALLERY ONLINE
The Adam D. Kamil Gallery is now also online. This gallery is a site for undergraduate art shows and hosts the annual reception and exhibition for students that participate in the Adam D. Kamil Media Awards. Visual Arts majors and minors at the junior or senior level are eligible to submit a proposal to show in the Kamil Gallery for one week during the academic school year. Past online exhibitions remain viewable with the artists' permission.