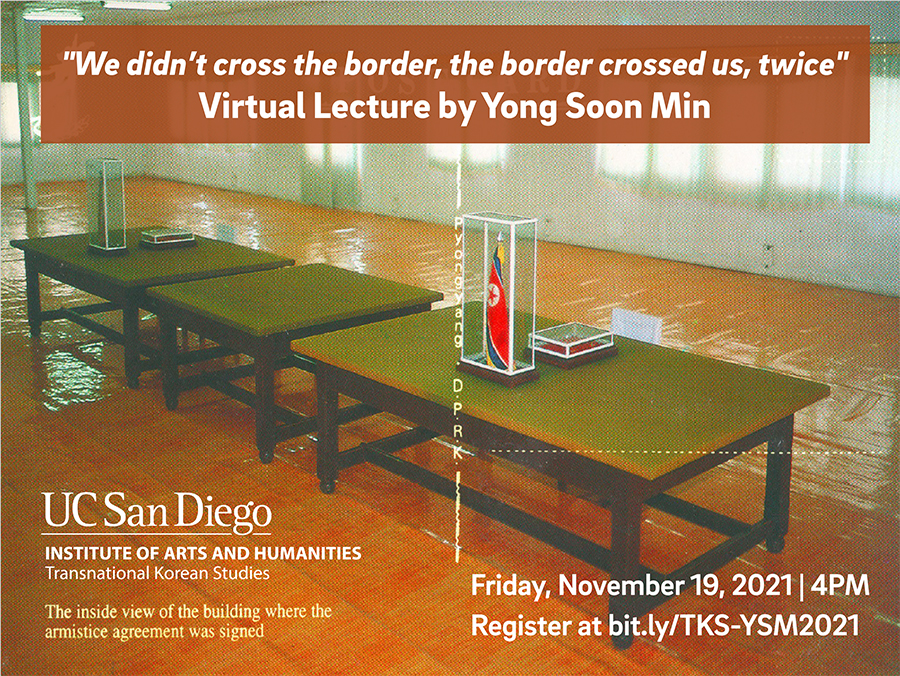 Yong Soon Min
Transnational Korean Studies Virtual Lecture
"We didn't cross the border, the border crossed us, twice"
November 19, 2021
4:00 p.m. PST
Register for Zoom Meeting Here
Amid the cultural and sociopolitical relations between North and South Korea, Yong Soon Min will concentrate this lecture on her recent work in 2019 titled "We didn't cross the border, the border crossed us, twice."
This mixed-media project presents a historical essay installation about three particular places that moved between two separate lines that divided Korea into two halves at different times; the straight 38th parallel line proposed by the Americans and agreed by the Soviet Union in 1945, and the curvilinear Demilitarized Zone of the armistice agreement of the Korean War in 1953. The western-most site is Kaesong, ancient capital of Goryeo Dynasty, and in the middle is the town of Cheorwon, a fierce battleground of the Korean War and the ancient capital of Taebong, and finally Kim Il Sung's summer villa overlooking the east coast. She will focus on the tumultuous changes that the three sites experienced between 1945 to 1953.
As an artist, curator, activist and educator, Yong Soon Min's career for the past forty years has focused on the Asian American identity, and its colonial and diasporic histories. Along the way, her work has been supported by a Fulbright Senior Research Grant, COLA Individual Artist Fellowship from the City of Los Angeles Cultural Affairs Department, Korea Foundation Grant, Anonymous Was a Woman Award, Guggenheim Foundation Grant and NEA Award in New Genre. She currently serves on the Artists Board of the Institute of Contemporary Art (ICA LA) and the steering committee of GYOPO. She is now Professor Emerita at UC Irvine, with an MFA from UC Berkeley, followed by a postdoc at the Whitney Museum's Independent Study Program.