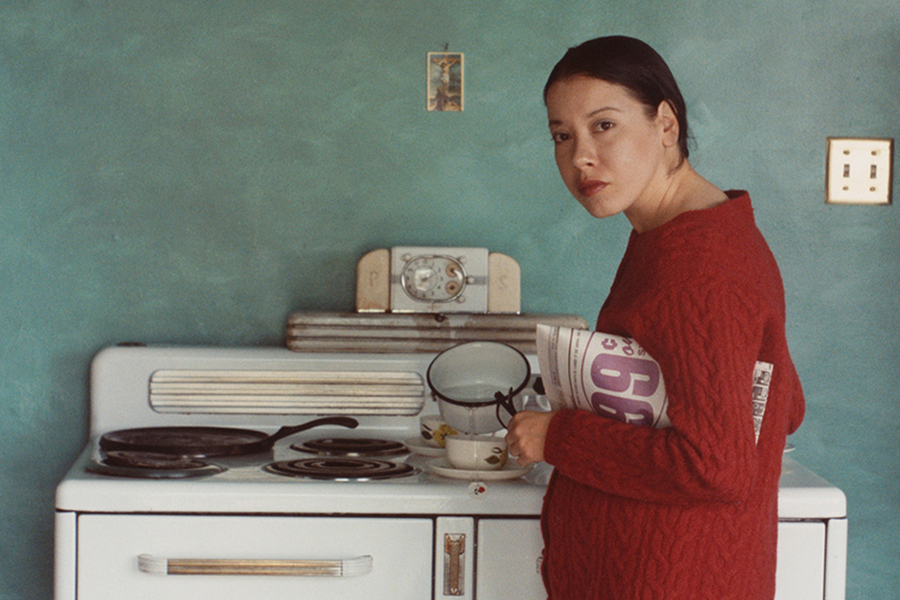 1950, San Diego, California from the series "Maria's Great Expedition," 1995-96 (cropped for this site)
Christina Fernandez
Guest Lecture
February 4, 2022
1:00 - 2:30 p.m. PST
YouTube Stream: https://youtu.be/342Z00oJnqg

Christina Fernandez is a Los Angeles-based photographer. Fernandez explores her personal connection to Los Angeles in her body of works. The city and its environs are featured as an important backdrop for her works that address labor, gender, migration, and her Mexican – American identity. Working in documentary format, her urban and landscape photography conveys social and political commentaries regarding her immediate environment.
Text and staged photographs depicting mythical and historical figures are part of the oeuvre of her early works – Maria's Great Expedition (1995 -1996) and the Ruin (1999 – 2000) series.
In her Manuela S-t-i-t-c-h-e-d (1996 – 2000) and the Lavanderia (2002) series, Fernandez examines the work and domestic life of the Latino residents of eastern Los Angeles – featuring exteriors of anonymous sweatshops and interiors of local Laundromats, to speak about the interplay of private and public spaces.
Fernandez's series, Sereno (2006 – 2010), depicts exterior spaces from her eastside neighborhood of El Sereno. The series exposes the tension between dense residential areas and "natural" spaces in urban areas – the homes of a working class neighborhood and the residue left behind by locals in the area.
https://galleryluisotti.com/artists/christina-fernandez/
Supported by Brutten Family Foundation