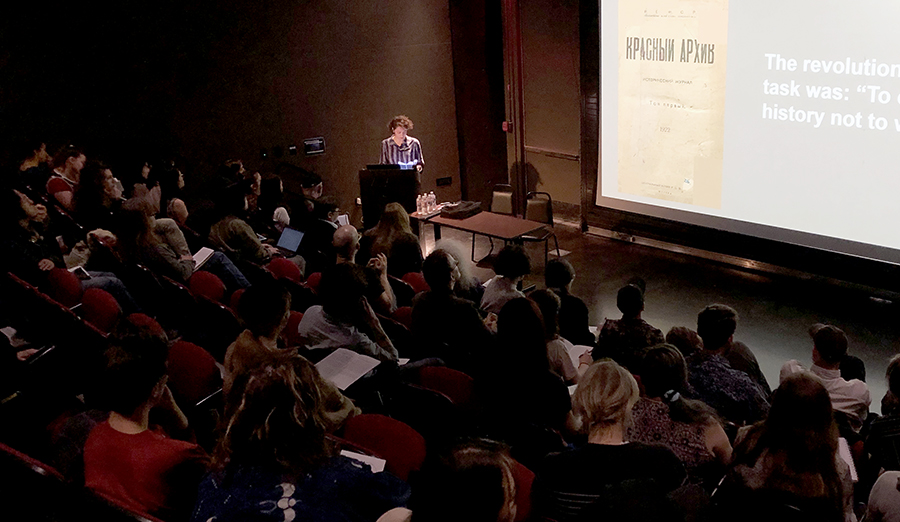 Doctoral Research Colloquium
Keynote: Judith Rodenbeck, Chair, Media & Cultural Studies, UC Riverside
February 25, 2022
10:00 a.m. - 4:00 p.m. PST

YouTube Stream: https://youtu.be/DbHU97rI26A

The Doctoral Research Colloquium features talks by PhD students who have recently advanced to candidacy along with a keynote lecture by a speaker who has influenced their practice. The colloquium is a public forum where the excitement and energy of newly launched dissertation projects are shared with the broader local community through sustained dialog with a senior scholar in the field.
---
10:00 - 10:10 a.m. Introductory remarks from John Welchman, Director, Art History PhD Program
---
10:10 - 10:40 a.m. Ingrid Asplund
20th Century Shaman: James Turrell, Temporality, and Cultural Appropriation
Contemporary light artist James Turrell often directly identifies the types of cultural influences which have guided his conceptualization of Roden Crater, the 400,000-year-old volcanic crater he has been transforming into a naked-eye observatory since the 1970s. Turrell gleans inspiration from various cultures and time periods, spurred by his ongoing interest in light and space. In particular, Roden Crater borrows closely from Hopi architecture and spirituality. This presentation will explore Turrell's relationship with cultural appropriation by utilizing an analysis of Turrell's oeuvre, including Roden Crater, and interviews with Turrell as well as a review of the literature surrounding Turrell's body of work and the question of cultural appropriation, especially within the relationship between white Americans and people Indigenous to the land they have stolen. This exploration reveals important insights about the ethics of aesthetic influence from oppressed cultures and the myths around Native Americans, especially the role of indigenous temporality and survival.
Respondents: Professors William Tronzo and Alena Williams
Biography: Ingrid Asplund is a doctoral candidate in art history researching American light installations and stained glass in the context of the history of religious art and architecture. She has a BA from Bryn Mawr College. 
Image: East Portal, Roden Crater, James Turrell, in progress 1979-present. Source: Artist's website
---
10:40 - 11:10 a.m. Anran Tu
Modernizing Nature, Scientizing Brush, and the Reincarnations of Bird and Flower Painting in Early Twentieth-Century China
Drawn from my dissertation about traditionalist artist Jin Cheng in early twentieth-century China, this talk addresses the way in which the genre of bird-and-flower painting incorporated new visual literacy and techniques proliferated by modern natural history education. Based on cross-reading of archives of science education, publications, and art theories, this paper unpacks the aesthetic, technical, and ideological registers of "truthful vision" in Jin Cheng's ornithological illustrations that blurs the boundary between the gongbi bird-and-flower painting and scientific illustration, which epitomizes the crucial role that a shifting conception of nature and culture played in the production of both modern art and cultures of science in China. This paper proposes the transformation of modern bird-and-flower painting as an alternative lens to examine visual modernity by showcasing its congruence with ecological modernity in Chinese experience.
Respondent: Professor Kuiyi Shen
Biography: Anran Tu is a doctoral candidate in art history working on Chinese and Japanese art in the early twentieth century. Her research examines artistic exchange across regional, national, and disciplinary boundaries. She obtained her M.A. degree from University of Alberta and the University of Edinburgh.
Image: Baimei (Siberian ground thrush), Yang Minhu (based on Jin's original copy), circa 1930s. Source: Hushe Monthly
---
11:10 - 11:40 a.m. Felicity Xiaojian Yin
Cosmopolitanism and Intermediality: Zhang Guangyu's Graphic Modernism
My dissertation focuses on Zhang Guangyu (1900-1965) who epitomizes the development of visual culture in cosmopolitan Shanghai during the period from the 1920s to 1940s. By examining his cross-media practices involving graphic design, interior design, and comics, this study investigates the multiple facets of cultural and artist-entrepreneurs' activities. This presentation zooms in on his "zhuangshi fengge" (decorative style) which challenges the originality-centered and media-specific mode of image-making. Thinking beyond the formal resemblance between Zhang Guangyu and the Mexican artist Miguel Covarrubias, this presentation takes a deep dive into cross-cultural borrowings and the materiality of drawings. A closer look at Zhang's folkloric illustrations enriches our understanding of the construction and formation of national culture in mid-twentieth century China.
Respondent: Professor Kuiyi Shen
Biography: Xiaojian Yin is a Ph.D. candidate in art history, theory, and criticism at UC San Diego. Her research focuses on graphic design and media culture in China during the first half of the twentieth century.
Image: Journey to the West in Cartoon, Zhang Guangyu, 1945. Source: Collection of Zhang Guangyu, volume 2, 2015.
---
Break 12:00 - 1:00 p.m.
---
1:00 - 1:10 p.m. Introductory remarks from Lisa Cartwright, Director, Art Practice PhD
---
1:10 - 1:40 p.m. Eduardo Thomas Valdivia
Alien Ripples in the Extra Terrestrial Film Archive: The Essay Form as a Space to Think Through and Along with Cinematic Extraterrestrials
Building from and expanding upon Simon Sheikh's concept of "thinking space," Nora Alter's call for understanding the essay film as "an audiovisual performance of theory and criticism," and Hito Steyerl's take on Dziga Vertov's notion of "visual bonds," this presentation will explore the critical value of employing the film essay as a mode of artistic research in order to grapple with the rippling presence of aliens traversing the films included in the Extra Terrestrial Film Archive—a self-compiled collection of nearly 600 cinematic works encompassing 100+ years worth of productions from all five continents. How could the film essay be used as a means to structure thought processes and research paths through and with the films of the Extra Terrestrial Film Archive?
Respondent: Professor Jordan Rose
Biography: Eduardo Thomas Valdivia is a doctoral candidate in Art Practice working on sci-fi and transnational cinema through essay filmmaking, and curatorial practices. He holds an MFA from Piet Zwart Institute, NL. In 2013 he was awarded a research grant by The Japan Foundation to inquire into the relationship between the Shinto-Buddhist concept of 'ma' and experimental film practices in Japan. Currently, he serves as co-curator of the film series Film at RedCat, in downtown Los Angeles.
Image: Sideral Chill, film still, Eduardo Thomas, 2020
---
1:40 - 2:10 p.m. Allison O. Evans
In the Dark Chamber: Embodiment and Site-Entanglements in Contemporary Camera Obscuras
Drawn from a dissertation that examines the vital entanglements between human and nonhuman phenomena in contemporary art, this talk addresses the body's relationship to (and within) the apparatus of the camera obscura. In an immersive camera obscura—one that surrounds the observer—the camera's aperture perforates the walls of a space, permitting energy from the outside to visibly materialize inside. This optical phenomenon is significant for reimagining how matter and energy, bodies and space, are entangled. Engaging with Sara Ahmed's phenomenological method and Karen Barad's theories of nonhuman agency, this paper introduces an approach that incorporates the body of the observer, highlights the interconnectivity of body/space or body/apparatus and also acknowledges the vital, ephemeral qualities embedded within the camera obscura.
Respondent: Professor Alena Williams
Biography: Allison O. Evans is a doctoral candidate in Art Practice working on experimental photography, film, and contemporary site-responsive installation through a New Materialist lens. She has an MFA from the University of Notre Dame and was named the Phllip C. Curtis Artist-in-Residence at Albion College in 2017. In 2019, she was invited to participate in Nancy Holt Scholar's Day at Dia Art Foundation.
Image: Zoe Leonard, 945 Madison Ave., 2014. Photograph.
Source: Collection of the Whitney Museum of American Art
---
2:10 - 3:10 p.m. Keynote Lecture: Professor Judith Rodenbeck
Chair, Media and Cultural Studies, UC Riverside
Between the Personal and the Political: Marianne Wex's Let's Take Back Our Space
From 1972 to 1977 the German painter Marianne Wex undertook an extensive research project aimed at demonstrating the cultural nature of gendered physical postures, accumulating a monumental archive of photographs of residents of her hometown of Hamburg, pictures reshot from popular magazines such as Der Spiegel, and images from the world history of figurative sculpture. A large-scale display of nearly 5,000 images culled from this archive was shown in 1979 as a sequence of mounted panels and then published in book form in German and in English. Let's Take Back Our Space: "Female" and "Male" Body Language as a Result of Patriarchal Structures (the book) is remarkable on many counts, among them: it is grounded in systems thinking, in this case explicitly feminist; it stands alongside a much broader swath of feminist visual culture of its moment, particularly film, in its engagement with questions of subject-formation, performativity, and counter-violence; like a number of conceptual and feminist projects of the same generation, it carries forward an immanent critique of photography's typological promise; at the same time, it represents a peculiar adoption of surveillance techniques precisely during West Germany's "leaden years," as tensions between left militants and a reactionary government simmered over into violence leading to the German "Autumn" of 1977; and finally, it contains a verbal account of coming out while providing, importantly, a visual exemplar of autotheory. This talk presents a provisional and schematic archaeology of this remarkable document.
Biography: Judith Rodenbeck is Associate Professor and Chair of the Department of Media and Cultural Studies at UC Riverside. Her first book Radical Prototypes: Allan Kaprow and the Invention of Happenings (MIT, 2011) explores the emergence of performance and intermedia in the American fine arts of the 1950s. Her teaching and research interests encompass critical theory, performance studies, the politics of aesthetics, and radical pedagogy, especially as these engage with Modernism and its avant-gardes and with contemporary artistic practice. She has authored numerous essays on performative practices, most recently on Francis Alÿs for the Musée Cantonal des Beaux-Arts de Lausanne, and her work has appeared in journals such as October, Grey Room, X-TRA, Artforum, Modern Painters, Sculpture, Woman's Art Journal and Camera Austria, among others. She has held grants and fellowships from the Creative Capital/Andy Warhol Foundation, the Mellon Foundation, the Clark Art Institute, and the American Council of Learned Societies. She holds a PhD in Art History from Columbia University. Her undergraduate work was in the then-nascent field of film studies, and then, at art school, in intermedia.
Image: Marianne Wex, Let's Take Back Our Space: "Female" and "Male" Body Language as a Result of Patriarchal Structures (1979), p. 134.
---
3:10 - 3:45 p.m. Closing Panel Discussion
Judith Rodenbeck, Ingrid Asplund, Allison Evans, Eduardo Thomas, Anran Tu, Felicity Xiaojian Yin