Louis Hock
Professor Emeritus
lhock@ucsd.edu
Biography
Louis Hock began making films when he was studying psychology and poetry at the University of Arizona, graduating with a BA in Psychology in 1970. In 1973 he received an MFA from the School of the Art Institute of Chicago.
Louis Hock's artwork - films, video tapes, and media installations - have been exhibited in solo shows at numerous national and international art institutions including the Museum of Modern Art in New York, the Whitney Museum of American Art, the Museum of Contemporary Art, Los Angeles, and the San Francisco Museum of Modern Art. In 1986 Hock completed a four part, four-hour video about the life and times of a community of undocumented Mexican workers in southern California, THE MEXICAN TAPES: A Chronicle of Life Outside the Law. The series was broadcast internationally on the PBS in the U.S., BBC in the U.K., and Televisa in Latin America. THE AMERICAN TAPES, a follow-up to that series is now in production with an anticipated release date of 2010.
Along with the production of work for institutionalized sites such as theaters and galleries, since 1980 Hock has been engaged in a public art practice. The early 80s works, Southern California, an itinerant cinema mural, and NATURE, a searchlight/freeway signage installation, directly addressed the audience at public sites. This was followed by a series of seven collaborative, intentionally provocative media events initiated by an art gesture. Dealing with the Superbowl and San Diego's undocumented Mexican work force, the first was a bus billboard project in 1988, Welcome to America's Finest Tourist Plantation. In 1990, the "NHI"(No Humans Involved) project --- a billboard, book, gallery installation, performance, and panel -- addressed the fate of 45 locally murdered women. In 1993, Art Rebate/Arte Reembolso, sponsored by the Museum of Contemporary Art, San Diego and the Centro Cultural de La Raza, opened a dialogue on the "undocumented taxpayer" through as a media event. Installations based on these collaborative projects have traveled to the Wexner Center (2004), the Puerto Rico Triennial (2004), Museo del Barrio in New York City (2008), and Museo del Palacio de Bellas Artes in Mexico City (2011) and other locations. Friendly Fire, was sponsored in 1996 by the Museum of Contemporary Art in Los Angeles. The collaborative project consisted of a store and factory installation in San Diego, a website, and exhibition in Los Angeles at the Museum site. In 2000, the Los Angeles County Museum of Art commissioned Hock, in collaboration with David Avalos, Elizabeth Sisco, Deborah Small and Scott Kessler, to develop a new art project for "Made in California: Art, Image, and Identity, 1900-2000" titled oracle@casa_de_cambio. These public and collaborative projects have been reviewed in Artforum, Art in America, The Los Angeles Times and The New York Times, most recently "Money Changes Everything," Ken Johnson, July 14, 2006. Writings on Hock's public artwork appear in Afterimage, Summer 1994; Is It Art?, Bay Press, 1994; Dialogues on Public Art, MIT Press, 2000; Art After Appropriation: Essays on art in the 1990s, Breach & Gordon, London, 2000; Intervention: Issues in Installation and Site-Specific Art, Univ. of Minnesota Press, 2000, and The Expediency of Culture: the Uses of Culture in the Global Era, George Yudice, Duke University Press, 2004.
In 1997 Hock participated in inSITE97, an international exhibition spanning the U.S./Mexico border region with his installation, International Waters / Aguas Internacionales. Poinsettia, a multimedia installation by Hock, was commissioned by the Ex Teresa Arte Actual in Mexico City in 2000/01. The work centered on the Flor de Noche Buena (the Poinsettia plant), and its emblematic relationship to U.S.& Mexico. La Panaderia in Mexico City exhibited Hock's Piramide del Sol: A Monument to Invisible Labor in 2002. In the fall of 2003 the International Center for Photography in New York showed Hock's photos, the Nightscope Series, in their traveling exhibition, "Only Skin Deep," curated by Brian Wallis and Coco Fusco. At LAMOCA 2004, Hock screened a new media installation, FERAL, as part of the LA Freewaves event and again in 2009 at the Montalvo Center.  A single channel version of the FERAL work has traveled to many international locations including the Oberhausen Film Festival, Casa de Cultura de Espana in Buenos Aires, and Reina Sofia in Madrid.  The Long Beach University Art Museum filled its space with Hock's installations, including American Desert, as a large one-person show in 2006. Hock's commissioned permanent video installation, Homeland, opens in 2011 at LAX.   In 2004, Hock screened a new digital version of his 1979 cine-mural, Southern California, at the Getty Center for a one-person event and again, as part of the Pacific Standard Time pan-institution exhibition in 2011, portions of that work will be a component of a gallery installation at the Getty.
Hock has been the recipient of numerous awards and grants including the National Endowment for the Arts, the American Film Institute, the Rockefeller Foundation, and California Arts Council (2002). At the University, his research is associated with the Center for Latin American Studies (CILAS), Center for U.S./Mexican Studies, and the Center for Research in Computing and the Arts (CRCA).
More information and images: www.louishock.info
Artwork Images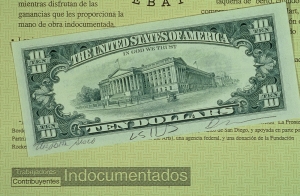 Art Rebate / Arte Reembolso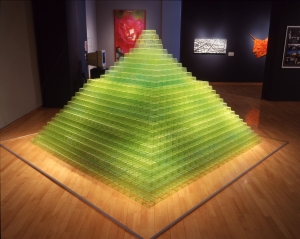 Piramide del Sol


Poinsettia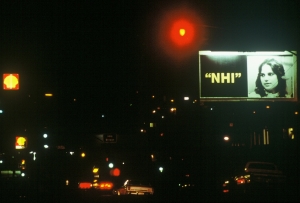 NHI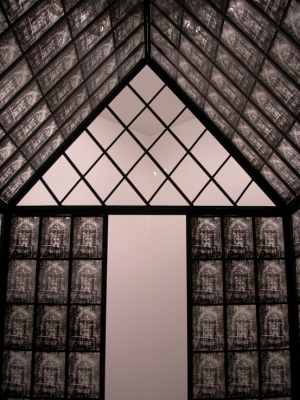 Shelter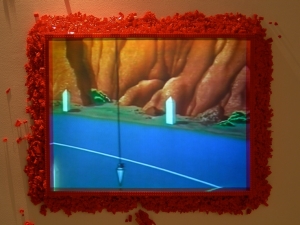 American Desert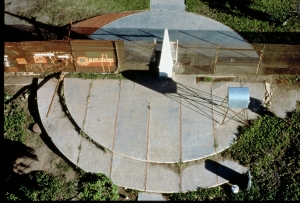 International Waters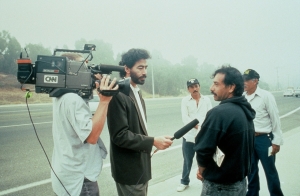 Art Rebate / Arte Reembolso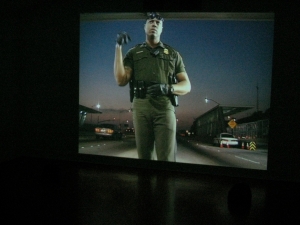 Feral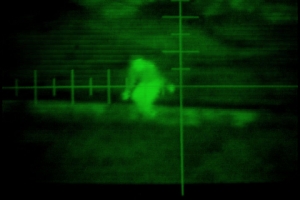 Nightscope Series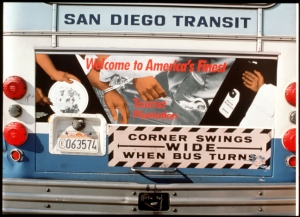 Welcome to America's Finest Tourist Plantation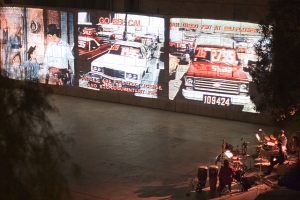 Southern California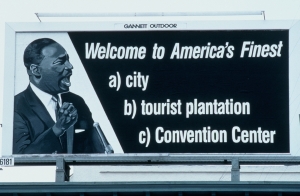 Welcome to America's Finest
a) city
b) tourist plantation
c) Convention Center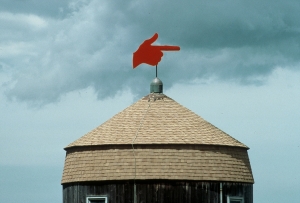 Almighty Gaze - Artpark