Paloma Checa-Gismero
Email:
Biography: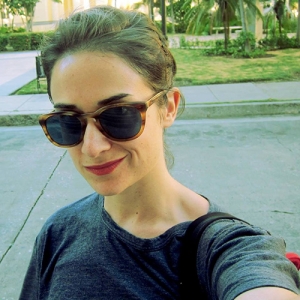 PhD 2019
As a scholar of Latin American and global contemporary art, I study the role played by art biennials in the expansion of the global contemporary art industry to new territories. I focus on contemporary art in Cuba and México.
My writing has appeared in The LA Review of Books, FIELD a journal of socially engaged art, CAA Reviews, Afterall, and CONCRETA. In December 2016 Spanish press Consonni published Yo veo / tú significas, my Spanish translation of Lucy R. Lippard's I See / You Mean (1972, 2016). I am co-author of the catalog of Los Sujetos, exhibition in the Spanish Pavilion of the 2015 Venice Biennale.
Some of my recent academic publications include:
 • "Realism in the Work of Maria Thereza Alves," Afterall journal, Fall 2017
 • "Global Contemporary Art Tourism: Engaging with Cuban Authenticity Through the Bienal de La Habana," in Tourism Planning & Development journal, vol. 15, 3, 2017
Before transitioning to an art historian, I was a practicing artist. Among other venues, my work was featured in Manifesta 10 (2010), and Archivo de Creadores de Madrid (since 2010). In 2009 I co-founded Rampa, an alternative art production and research organization in Madrid, Spain, which I co-run until 2011. Since, I have been involved in several arts editorial projects such as COCOM, an art theory publishing platform based in Mérida, México, and FIELD, a journal of socially engaged art criticism (UCSD).
Since 2008 I have taught art production, design, and art history at several institutions such as Universidad Complutense de Madrid (2011), Cartagena Public Art Festival (2009), and the Escuela Superior de Arte de Yucatán (2013). At UCSD, during Summer Session 1 2017 I designed and taught my first upper division seminar as instructor of record, VIS128C "20th Century Art as International Phenomenon."