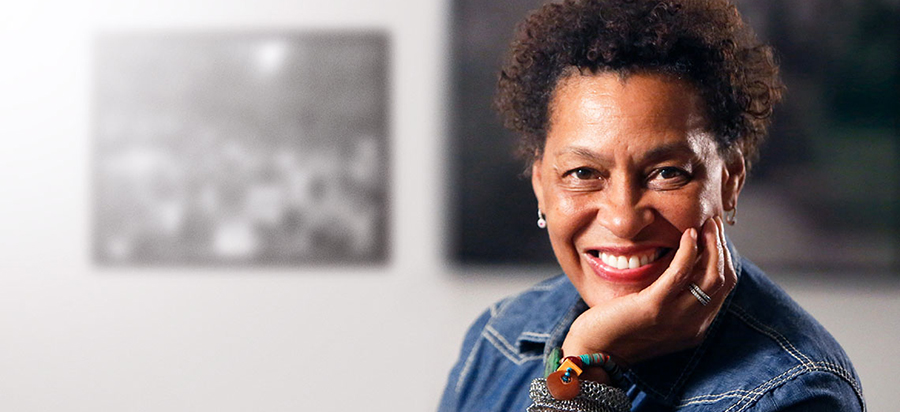 Carrie Mae Weems Guest Lecture
Distinguished Alumna, MFA '84
November 7th, 2018

Reception: 6 p.m., Lecture: 7 p.m.

Price Center Theater, UC San Diego
Free and open to the public

"How to Develop Your Profound Voice" in UC San Diego News
Considered one of the most influential contemporary American artists, Carrie Mae Weems has investigated family relationships, cultural identity, sexism, class, political systems, and the consequences of power. Determined as ever to enter the picture—both literally and metaphorically—Weems has sustained an on-going dialogue within contemporary discourse for over thirty years. During this time, Carrie Mae Weems has developed a complex body of art employing photographs, text, fabric, audio, digital images, installation, and video.

In a New York Times review of her retrospective, Holland Cotter wrote, "Ms. Weems is what she has always been, a superb image maker and a moral force, focused and irrepressible."

Weems has participated in numerous solo and group exhibitions at major national and international museums including the Metropolitan Museum of Art, The Frist Center for Visual Art, Solomon Guggenheim Museum in New York, and the Centro Andaluz de Arte Contemporáneo in Seville, Spain.

Weems has received numerous awards, grants, and fellowships, including the prestigious Prix de Roma, The National Endowment of the Arts, The Alpert, The Anonymous was a Woman, and The Tiffany Awards. In 2012, Weems was presented with one of the first US Department of State's Medals of Arts in recognition for her commitment to the State Department's Art in Embassies program.

In 2013 Weems received the MacArthur "Genius" grant as well as the Congressional Black Caucus Foundation's Lifetime Achievement Award. She has also received the BET Honors Visual Artist award, the Lucie Award for Fine Art photography, was one of four artists honored at the Guggenheim's 2014 International Gala, a recipient of the ICP Spotlights Award from the International Center of Photography, The WEB Dubois Award from Harvard University, as well as Honorary Degrees from: California College of the Arts, Colgate University, Bowdoin College, the School of Visual Arts and Syracuse University.

She is represented in public and private collections around the world, including the Metropolitan Museum of Art, NY; The Museum of Fine Arts, Houston; the Museum of Modern Art, NY; Museum of Contemporary Art, Los Angeles; and The Tate Modern, London.

Weems has been represented by Jack Shainman Gallery since 2008, and is currently Artist in Residence at the Park Avenue Armory. She lives in Syracuse, New York, with her husband Jeffrey Hoone who is Executive Director of Light Work.
Presented with support from University Centers.