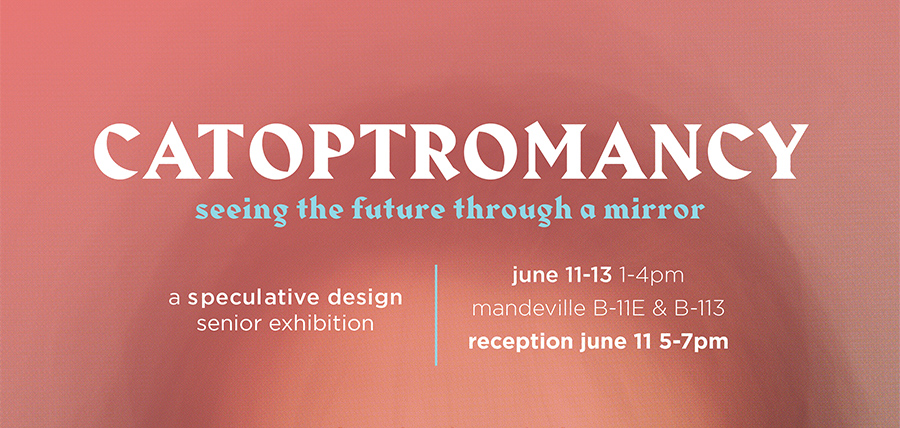 MEX/USA + Catoptromancy
Speculative Design Senior Exhibition
June 11-13, 2019, 1-4 p.m.
Reception: June 11, 5-7 p.m.
Mande B-111E and B-113, Mandeville Center, UC San Diego

The 2019 graduating class of the UC San Diego Visual Arts Speculative Design program is proud to announce this year's Senior Exhibition, showcasing their final projects and culmination of their time here at UC San Diego.
The projects in the exhibition revolve around questions of the city and its future. With over half the world's population living in cities today and more than two-thirds expected in 2050, it is imperative for humanity to imagine futures inside these future megapolises. Two major subtopics exist: Looking at San Diego's unique setting on the border, and imagining a city which doesn't belong solely to the United States nor solely to Mexico, but a city which has a radically different position. Inspired by Professor Ricardo Domingez's work on the border and immigrants, the seniors have created different permutations of what that city might be.
Catoptromancy
The art of using mirrors to view reflections of the future. Practiced by specularii
Considering the current state of governance and imagining a city which is governed not just by an AI, but one which recognizes and considers its population's emotions. Inspired by Professor Pinar Yoldas's Kitty AI project, the seniors look into applications of AI into various and unique fractals of society.
Featuring work from:
Akira Mariano
Alexis Tirado
Angela Kuo
Anna Strahan
Baylee Olsen
Breanna Beauchamp
Cameron Zuziak
Carina Qu
Cristian Rojas
Daniel Chit
Ferris Yeh
Gregory Loui
Hank Yin
Joshua Pallag
Kayley Watson
Kelsey Schoenberg
Kenny Nguyen
Laini Nguyen
Larissa Swift
Lauren Filzenger
Mariel Velicaria
Matthew Cusolito
Signe Wurtz
Sydney Vantil
Tommy Sharkey
Vanessa Wong
Yanxi Wang
Zhuoqun Robin Xu

Special Thanks to Ricardo Dominguez and Pinar Yoldas for teaching and guiding us.