Saidiya Hartman
In Conversation Wayward Lives, Beautiful Experiments
December 4, 2020
12:00 p.m. PST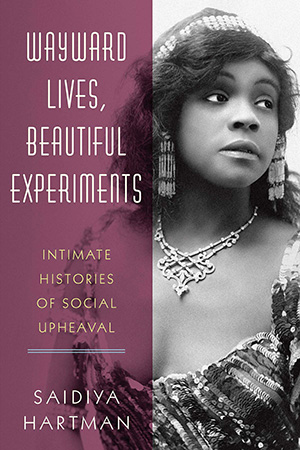 Acclaimed scholar and 2019 MacArthur fellow Professor Saidiya Hartman (Department of English and Comparative Literature, Columbia University) will discuss with Assistant Professor Alena J. Williams (Department of Visual Arts, UC San Diego) themes of visuality and representation in Hartman's recent book, Wayward Lives, Beautiful Experiments (2019), which reinvents narratives of early twentieth-century Black female subjectivity in the wake of the Great Migration in the United States. Q & A with audience to follow.
"Hartman's rigor and restraint give her writing its distinctive electricity and tension….This kind of beautiful, immersive narration exists for its own sake but it also counteracts the most common depictions of black urban life from this time." –The New York Times
"Ambitious and original." ―Maggie Nelson
Saidiya Hartman is a scholar of African American literature and cultural history whose works explore the afterlife of slavery in modern American society and bear witness to lives, traumas, and fleeting moments of beauty that historical archives have omitted or obscured. She weaves findings from her meticulous historical research into narratives that retrieve from oblivion stories of nameless and sparsely documented historical actors, such as female captives on slave ships and the inhabitants of slums at the turn of the twentieth century.
Her first book, Scenes of Subjection: Terror, Slavery, and Self-Making in Nineteenth-Century America (1997), traces continuities between pre- and post-emancipation eras in the United States by demonstrating how even advocacy-oriented abolitionist rhetoric reproduced the violence and domination of the state of enslavement. She extends her analysis to the present day by challenging contemporary scholars to be wary of recirculating scenes of the violated black body. Her second book, Lose Your Mother: A Journey Along the Atlantic Slave Route (2007), combines elements of historiography and memoir in a meditation on her travels to Ghana in search of a deeper understanding of the experience of enslavement. With this work, Hartman defies the conventions of academic scholarship and employs a speculative method of writing history, which she terms "critical fabulation," to interrogate the authority of historical archives as the singular source of credible information about the past. She revisits the primal scenes of the African diaspora—its coastal fortresses, dungeons, and hinterlands—and reimagines from multiple perspectives the case of an African girl who was murdered by a ship captain and singled out in a speech by the British abolitionist William Wilberforce in 1792. As a whole, the book dramatizes the challenge of rendering in narrative form such irreparable conditions of loss and dispossession and illuminates the ongoing consequences of these conditions in the present day.
Hartman's most recent book, Wayward Lives, Beautiful Experiments (2019), is similarly inventive in its mode of presentation and immerses readers in the interior lives of young black women who fled the South and moved to Northern cities in the early twentieth century. While drawing from sociological surveys, tenement photographs, reformatory case files, and other sources, she critiques the pathologizing portrayals these official documents present and recovers stories of resistance enacted by famous women (such as Ida B. Wells) and numerous anonymous others who looked outside the bounds of the law to find kinship, intimacy, and freedom. By addressing gaps and omissions in accounts of trans-Atlantic slavery and its aftermath, Hartman has influenced an entire generation of scholars and afforded readers a proximity to the past that would otherwise be foreclosed.
Saidiya Hartman received a BA (1984) from Wesleyan University and a PhD (1992) from Yale University. She was a professor in the Department of English and African American Studies at the University of California, Berkeley (1992–2006), prior to joining the faculty of Columbia University, where she is currently a professor in the Department of English and Comparative Literature. She is the former director of the Institute for Research on Gender and Sexuality at Columbia University and was a Whitney Oates Fellow at Princeton University (2002), a Cullman Fellow at the New York Public Library (2016–2017), and a Critical Inquiry Visiting Professor at the University of Chicago (2018). In addition to her books, she has published articles in journals such as South Atlantic Quarterly, Brick, Small Axe, Callaloo, The New Yorker and The Paris Review.
She is based in New York City.
https://blueflowerarts.com/artist/saidiya-hartman/