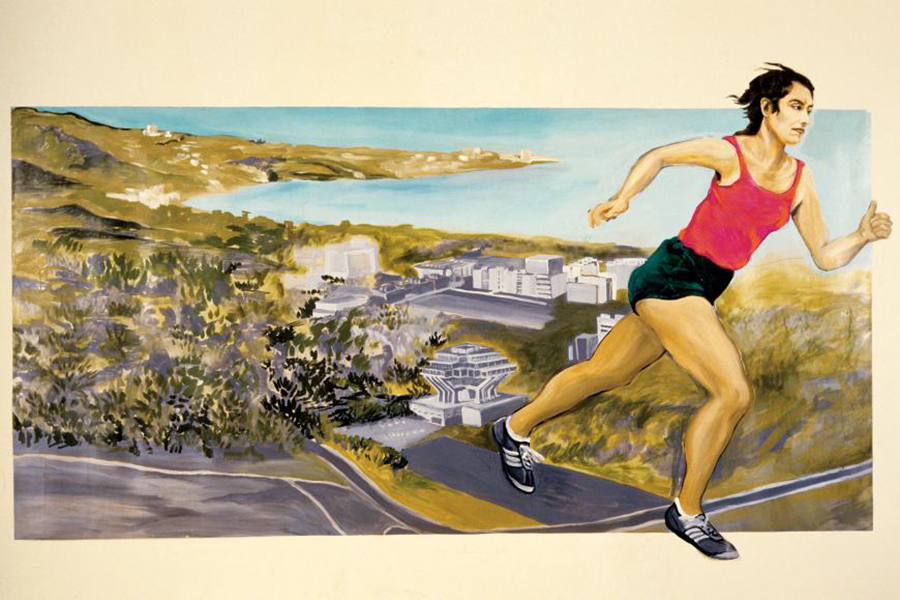 Runner: On My Own!, from the series ¿A Dónde Vas, Chicana? (Yolanda López, 1977).
Yolanda López: A Studio of One's Own
A Panel in Celebration of a UC San Diego MFA Alumnx
February 17, 2022
5:00 - 7:00 p.m. PST
Webinar Registration: https://bit.ly/UCSDYolandaLopez
Yolanda López: A Studio of One's Own will reflect on one of the most important Chicano/a/x artist and activist who worked in California over the past five decades, with a special focus on the art produced during her time as an MFA (1979) in the Department of Visual Arts. Yolanda López was born in San Diego in 1942 and passed in 2021. The title for the panel echoes the playful take on her first solo museum exhibition Portrait of the Artist at Museum of Contemporary Art San Diego, Downtown. The exhibition presents a compendium of López's work from the 1970s and 1980s, when she created a vivid body of paintings, drawings, and collages that investigate and reimagine representations of women within Chicano/a/x culture and society, and where UCSD looms large in the work.
Panelists:
David Avalos, Cal State University San Marcos
Alana Hernandez, Celebración Artística de las Américas
Alessandra Moctezuma, San Diego Mesa College
Susan Mogul, UC San Diego Alumx
Moderator: Ricardo Dominguez, Department of Visual Arts
This event is co-sponsored by Chicanx and Latinx Studies, Visual Arts, Latin American Studies, and the Institute of the Americas.
---
David Avalos came up in Old Town National City (OTNC), California, a Mexican-American community that nurtured his parents and family, and produced internationally recognized Chicano artists, human rights activists, scholars, and educators who continue to influence Avalos' thinking and actions. A Vietnam-era U.S. Army veteran stationed in West Germany in the late 1960s, he was able to attend South Bay Trade School, SDSU and UCSD on the G.I. Bill. At the Centro Cultural de la Raza throughout the 1980s he worked with multi-disciplinary artists, including the Border Art Workshop/Taller de Arte Fronterizo, a collective focused on the dynamic balance of US-Mexico absurdities. As a CSUSM teacher since 1991, he learns while teaching students who bring their diverse backgrounds, world views, intuitions, insights and ideas into the classroom. Writings about and by him are included in numerous academic publications and archives. His art works are in regional and national museum collections.
Alana Hernandez is Executive Director and Curator of CALA Alliance (Celebración Artística de las Américas). In her position, she fosters Latinx artistic talent in the Metro-Phoenix region and beyond while strengthening cultural ties to the Americas. As a curator, Hernandez advocates for representation in institutional spaces. She has cultivated her curatorial practice on highlighting peripheral, understudied, and ignored art histories, with particular attention paid to U.S. Latinx and artists from Latin America. Hernandez has held curatorial positions at the Museum of Contemporary Art San Diego; Whitney Museum of American Art, New York; Páramo, Guadalajara, Mexico; Hunter East Harlem, New York; Museum of Modern Art, New York; Phoenix Art Museum; and BRIC ArtsMedia, Brooklyn. She is the organizer and contributor to the forthcoming Museum of Contemporary Art San Diego: Handbook of the Collection (2021) and the three-print volume, Grove Encyclopedia of Latin American Art and Architecture. Hernandez received her M.A. from CUNY Hunter College where she specialized in Modern and Contemporary Latin American Art.
Alessandra Moctezuma is Gallery Director and Professor of Fine Art at San Diego Mesa College, where she leads the Museum Studies program and teaches courses on Chicano Art. She earned Bachelor of Art and Master of Fine Arts (Painting/Printmaking) degrees from UCLA. She is also ABD for a Ph.D. in Hispanic Languages and Literature at the State University in New York, Stony Brook. Dr. Moctezuma has curated exhibitions for other art spaces including the Oceanside Museum of Art (Twenty Women: NOW, 2021, Borderless Dreams, 2005 and Through a Lens Sharply, 2006) and unDocumenta (2017) as part of the Getty's initiative Pacific Standard Time LA/LA and more recently she co-curated a retrospective of Chicana artist Judith F. Baca for the Museum of Latin American Art, Long Beach (July 2021 – March 2022).
Susan Mogul, video artist, and pioneer of the medium since receiving her MFA, (1980, UCSD). Initially producing an important series of humorous and staunchly feminist performance videos, her practice quickly expanded to more complicated and experimental forms of narrative, including feature length work. Mogul has received grants including: Guggenheim Fellowship, ITVS commission, National Endowment for the Arts Fellowship, Getty Trust Fellowship, and Center for Cultural Innovation grant. Mogul's video/film retrospective was presented at "Visions du Reel" Film Festival in Switzerland in 2009. "Driving Men" a feature length documentary, screened in international competitions in Japan, Italy, Portugal, Switzerland, India. Mogul's first solo museum exhibition will take place at the Zacheta, a major museum in Warsaw, Poland in 2022.