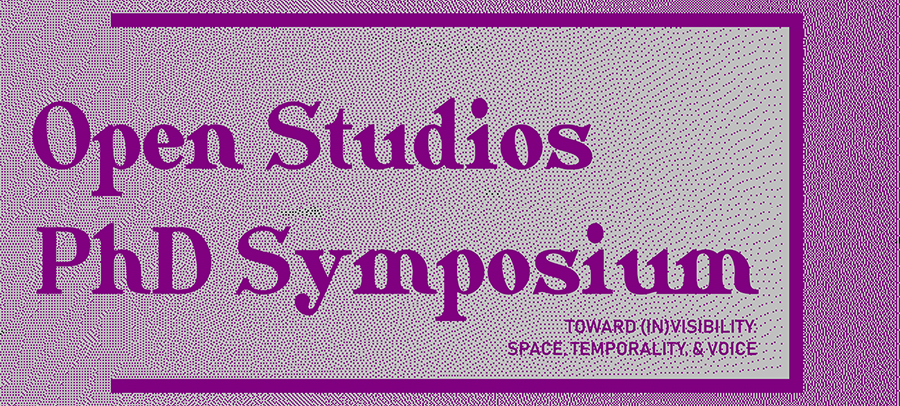 Please join us at the UC San Diego Department of Visual Arts for the 12th Annual PhD Symposium & Graduate Open Studios.
Saturday, March 2nd, 2019
Free & Open to the Public
12th Annual Visual Arts PhD SYMPOSIUM, 9 a.m. - 4:45 p.m.
(Structural & Materials Engineering Bldg., SME 149, Lyman Ln., UC San Diego)
Toward (In)Visibility: Space, Temporality, and Voice
9:00 a.m - 10:00 a.m. Keynote Presentation: Liz Glynn (Assistant Professor, UC Irvine)
10:15 a.m. - 12:00 p.m. Panel 1: Architecture and Urban Environments
(Raechel Root, Hande Sever & Alexandre Saden, Josh Widera)
1:00 p.m. - 2:40 p.m. Panel 2: Queer Space
(Nina Peterson, Taylor Hosford, Leticia Cobra Lima)
3:30 p.m. - 4:45 p.m. Panel 3: Internet and Media
(Yiwen Wang, Aaron Katzeman)
2019 Graduate OPEN STUDIOS, 3 p.m. - 6 p.m.
(Visual Arts Facility, Russell Ln. park at Gilman Parking Structure, UC San Diego)
This is our opportunity to share with you and the San Diego community our research, scholarship, and artistic practices. Open Studios will feature over 40 MFA & PhD artists' open studios, exhibitions, screenings, and publications produced in the Department of Visual Arts. The artists will be present in their studios throughout the afternoon and excited to talk about and share their work with you.
The winner of the 2019 David Antin Prize was announced at 3 p.m., kicking off the Open Studios. Congratulations to Eddy Miramontes! This annual prize was started to support a third-year MFA Visual Arts student who reflects David Antin's focus on interdisciplinary work and the use of multiple mediums. The awardee has shown originality and creativity in work as an artist or writer in the field of art criticism. The prize comes with a $1,000 award.
Exhibitions Include:
POTLATCH, Stations of empowerment, platforms of departure
Opening: Thursday, February 28th, 2019, 12-5 p.m.
Main and Commons Galleries, Visual Arts Facility
Alexandra Neuman, Bailey Davenport, Carolina Montejo, Grace Mae Huddleston, Guillermo Estrada, John Dombroski, Kevin Vincent, Maya Grace Misra, Oscar Magallanes, Thien Doan, Yasmine Kasem, Zara Kuredjian, Zebulon Zang
MFA Video Screening
Studio 508, Visual Arts Facility
D.S. Chapman, John Dombroski, Grace Grothaus, Asa Mendelsohn, Alexandra Neuman, dana washington
MemoryBabe No.17: The Wrestling Project
Performance: 6-7 p.m.
Performance Space 306, Visual Arts Facility
Eddy Miramontes (JEM)
Presented with support from the Graduate Student Association.