Amy Alexander
Professor
(858) 822-5729
ajalexander at our campus domain
Website
http://amy-alexander.com
Office/Studio
VAF 452
Biography
Amy Alexander is a professor and hackernaut who has been making computationally-based art projects since the 1990s.  Amy is a Professor of Computing in the Arts in the Visual Arts Department at UC San Diego. She is an algorithmic filmmaker and performer who has focused throughout her career on the fuzzy borders between media and the world.
Amy's work has frequently addressed algorithmic subjectivity in digital culture by creating transparently biased, sometimes funny alternatives. Her recent work returns to this theme — this time taking on the attention economy and social influence of algorithms used for social media rankings and facial classification.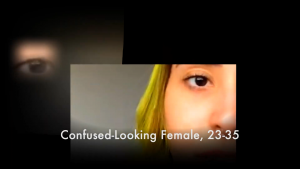 Using computer vision and machine learning-based methods of curation and production, What the Robot Saw, is a perpetual live stream that depicts the cinematic fantasy of the surveillant AI robots who "see" the social media content few humans get to experience.
Deep Hysteria is a still image series developed using generative deep learning and commercial emotion detection algorithms. Deep Hysteria repurposes algorithmic bias in the service of shedding light on human gender bias.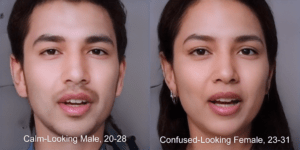 Amy's art practice has spanned net art, software art, computationally-based installation, audiovisual performance, and film. Her research and practice over the years has focused on how contemporary media – from performative cinema to social media – changes along with cultural and technological shifts. Amy's projects have been exhibited and performed on the Internet, in clubs and on the street as well as in festivals and museums. She has written and lectured on software art, software as culture, historical and contemporary audiovisual performance, and media preservation, and she has served as a reviewer for festivals and commissions for new media art and computer music. Her recent lectures span topics including algorithmic bias and subjectivity, performative strategies of documentation in historical media practices, and systems and disruption in 20th and 21st century media.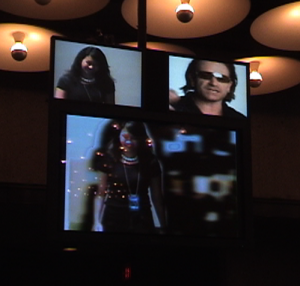 Amy – who has also worked under the names Cue P. Doll and VJ Übergeek – was one of the early artists working in the development of generative net art, beginning in 1996 with the Multi-Cultural Recycler, a widely-exhibited site that spoofed both net celebrity and faux multi-culturalism on the web. In addition to her art projects, she was also a co-founder and moderator of the Runme.org software art repository, an early member of the TOPLAP live coding collective, and has been active in algorithmic and media art curation. Amy's projects have been exhibited and performed at venues ranging from The Whitney Museum, Prix Ars Electronica, Transmediale, SIGGRAPH, NIME, ICLC (International Conference on Live Coding),  and the New Museum to club performances at Sonar (Barcelona), First Avenue (Minneapolis) and Melkweg (Amsterdam). She has also performed on the streets of Los Angeles, San Diego, San Jose, Zürich, and Aberdeen, Scotland.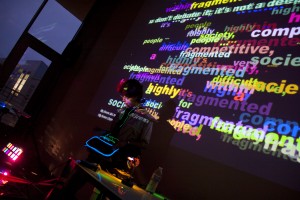 Amy received an MFA from CalArts, where she studied live action and experimental animation, as well as new media. Experimental animation practices continue to figure heavily into Amy's research and practice.  Her research on 20th century audiovisual performance artist and inventor Mary Hallock Greenewalt led her to developing the Mary Hallock Greenewalt Visibility Project, an online database and archive devoted to increasing visibility of Hallock Greenewalt's archives and work. Amy's recent performance project PIGS (Percussive Image Gestural System), is a live performance and research project focused on using silent percussion as a means to create improvisational, structured visuals.
Amy's past lives have included work as a musician, a record store manager, a video camera operator / editor / technician, a 3D animator, a television and new media effects developer, and a systems administrator. She programs in Python, Javascript, Max/MSP/Jitter, Processing/p5.js, and a few others, lately focusing on developing strategies for critical approaches to machine learning and computer vision in cinematic art practice.  She plays the drums, and occasionally still stumbles around on bass, guitar, and violin.