Allan Kaprow
Position:
Professor Emeritus
Biography:
Professor Emeritus Allan Kaprow who served on the full-time faculty from 1974 to 1993, died April 5, 2006, at his home in Encinitas, California. He was 78 and died of natural causes. A memorial celebration was held on Saturday, June 3, 2006, from 3-6pm in the Visual Arts Facility at the University of California, San Diego. Allan Kaprow studied at New York University (art at the undergraduate level, philosophy at the graduate) and received his MA from Columbia in art history. He also studied at the Hans Hoffman School of Fine Arts in New York City and later with John Cage. His teaching career has included faculty positions at Rutgers, Pratt Institute, the State University of New York at Stony Brook, and the California Institute of the Arts (Associate Dean). He was also the co-director of Project Other Ways in Berkeley -- a study geared toward introducing studio artists into the public school system from elementary through secondary levels. Kaprow began his studio career as a painter; during the 1950's he co-founded the Hansa and Reuben Galleries in New York and later was the director of the Judson Gallery. He is recognized as virtually having invented happenings and has performed and exhibited widely in national and international galleries and museums. Notable events include: 18 Happenings in Six Parts, Calling, Gas, Fluids, and BTU's. A selection of articles written by Kaprow include: The Legacy of Jackson Pollock, Art News, October, 1958; Happenings in the New York Scene, Art News, May, 1961; Impurity Art News, January, 1963; Assemblage, Environments and Happenings, Harry N. Abrams, Inc., 1966; Days Off, Museum of Modern Art, 1969, (a calendar of ten happenings); The Education of the Un-Artist, Part I, Art News, February, 1971; The Education of the Un-Artist, Part II, Art News, May, 1972; The Education of the Un-Artist, Part III, Art in America, January, 1974; The Real Experiment, Artforum, December, 1983.
New York Times, Art& Design, Allan Kaprow, Creator of Artistic 'Happenings,' Dies at 78
Artwork Images: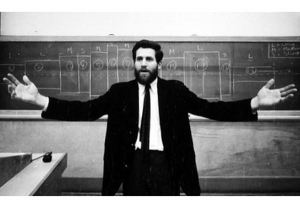 Allan Kaprow explaining "household" (detail). Photographer unknown. Image courtesy of The Getty Research Institute Library, LA.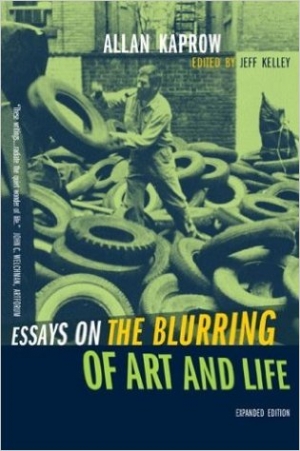 Essays on the Blurring of Art and Life by Allan Kaprow, Edited by MFA Alum Jeff Kelley.
Book cover image.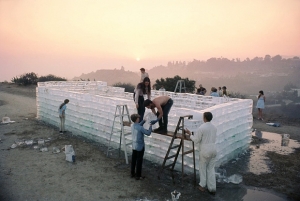 From the Allan Kaprow's Happenings Series, Fluids, 1967.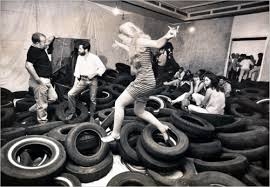 From the Allan Kaprow's Happenings Series, Yard. Image is courtesy of The New York Times.