Manny Farber
Position:
Professor Emeritus
Biography:
Professor Emeritus Manny Faber who served on the full-time faculty from 1970 to 1987, died August 18, 2008, at his home in Leucadia, California. He was 91. Artist Manny Farber pursued dual careers as a film critic and painter since 1941. Farber served as the film critic for The New Republic, The Nation, Time Magazine, The New Leader, Cavalier, and Artforum before joining the Visual Arts Department in 1970. A collection of Farber's early criticism was published under the title of Negative Space and later reprinted as Movies. Since 1975, he wrote in collaboration with his wife, Patricia Patterson, and their work has been published primarily in City Magazine and Film Comment. As a painter Farber is represented by the O. K. Harris Gallery in New York and exhibited work there on a regular basis. A retrospective of his paintings was held at the La Jolla Museum of Contemporary Art in 1978 (now called the Museum of Contemporary Art, San Diego).
New York Times, Art & Design, Manny Farber, Iconoclastic Film Critic and Artist, Dies at 91
Artwork Images: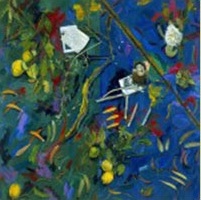 Manny Farber's "Stephanie's Limes," 1995.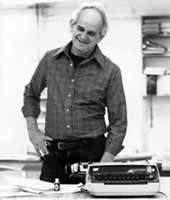 Manny Farber.