David Antin
Position:
Professor Emeritus
Biography:
David Antin, a poet, critic and performance artist of lasting importance, passed away on October 11, 2016. He was 84.
His background included undergraduate work in science and languages with graduate work in linguistics at New York University (his special project was the language structure of Gertrude Stein). He edited and translated several science and math books and pursued a career as a poet since 1955 and that of an art critic since 1964. He also served as the Educational Curator for the Institute of Contemporary Art in Boston before joining the Visual Arts Department in 1968.
For four years he was Director of the UCSD Mandeville Art Gallery, assembling exhibitions of post-Pop representation (Katz, Morley, Estes, Wesselman), an exhibition of Nancy Spero's Artaud Drawings, a video piece by Keith Sonnier, an installation piece by Richard Serra, and a performance by Joan Jonas, as well as a large group show of artists from the Fluxus group. He also started the poetry readings at UCSD, the recordings from which became part of the UCSD Library's Special Collections' Poetry Archive, which he helped inaugurate.
Antin began full-time teaching in 1972 and his courses cover such areas as the Structure of Art, History of Criticism, Tactics and Strategies, Theories of Modernism and Postmodernism, and Narrative Theory.
His published books include Definitions (1967), Autobiography (1967), Code of Flag Behavior (1968), Meditations (1971), Talking (1972), After the War (A Long Novel with Few Words) (1973), Talking at the Boundaries (1976), Who's Listening Out There (1980), Dialogue (1980), Tuning (1984), Poèmes Parlés (1985), Selected Poems 1963-1973 (1991), What It Means to be Avant Garde (1993), I Never Knew What Time it Was (2005), and John Cage Uncaged is Still Cagey (2005).
Extensive essays on his work can be found in Boundary 2 (1975), Vort #8 (1975), The Poetics of Indeterminacy, Marjorie Perloff (1981), In Search of the Primitive, Sherman Paul (1986), Jazz Text, Charles O. Hartman (1991), Repositionings, Fred Garber (1995), Ghostlier Demarcations, Michael Davidson (1997), and there is a long interview with him in Some Other Frequency, ed. Larry McCaffery (1996). An issue of the Review of Contemporary Fiction devoted to his work was published 2001 by the Dalkey Archive, which also republished his 1972 work Talking in 2001. A four month email exchange with the poet Charles Bernstein called A Conversation with David Antin was published by Granary Press, Spring 2002.
A selection of his writing includes "Le Marchand de Sel," Kulchur 18, Summer, 1965; "Grey Paint: Robert Morris," Art News, April, 1966; "The Silver Tenement: Andy Warhol," Art News, Summer, 1966; "Lead Kindly Blight," Art News, November, 1970; "Art and the Corporations," Art News, September, 1970; "It is Approaching a Desert in Which Nothing Can Be Perceived But Feeling," Art News, March, 1971; "Duchamp, the Meal and the Remainder," Art News, October, 1972; "Modernism and Postmodernism," Boundary 2, Vol 1, No. 1, September, 1972; "Talking at Pomona," Artforum, September, 1972; "Duchamp and Language," Museum of Modern Art catalog, New York Graphic Society, November, 1973; "Television: Video's Frightful Parent," Artforum, 1974-5; "Some Questions About Modernism," Occident, Vol. VIII, Spring, 1974; "The Death of the Hired Man," catalog essay for Siah Armajani, Baxter Art Gallery, Cal Tech, Pasadena, Summer 1982; "Duration," Formations, U. of Wisconsin, Madison, Fall 1984; "What it means to be avant garde," Formations, U. of Wisconsin, Fall, 1985; "from the structuralist," New Directions Annual, 50, 1986; "Biography," Representations, No.16, Fall 1986; "The Stranger at the Door," Genre, 1988; "Spring, Noise, Love and All," New Directions, Annual 1988; "The Messenger," Journal, Los Angeles Institute of Contemporary Art, 1986; "endangered nouns," Remembrances of Things Past, catalog, Long Beach Museum of Art, 1986; "writing and exile," Tikkun, September, 1990; "Thinking About Novels," Review of Contemporary Fiction, Summer 1991; "FINE FURS," Critical Inquiry, Fall 1992; "Interview with Hazel Smith and Roger Dean," Postmodern Culture, Spring, 1993; "Have Mind Will Travel," in Robert Morris catalog, Guggenheim Museum, 1994; "The Beggar and the King," Pacific Coast Philology, Vol. 30, No. 2, 1995; "Eight Stories for John Baldessari," in John Baldessari, National City, La Jolla Museum, 1996; "Wittgenstein Among the Poets," Modernist and Modernity, January, 1998; "I never knew what time it was," 108/107, Atlanta, 1999; "the flying fish," 108/106, Atlanta, 1999; "the nervous camel," Review of Contemporary Fiction, Spring 2001; "the noise of time," Boston Review, Spring, 2001.
A selection of his earlier poems has been translated into Slovak by Drewo a srd in Bratislava. Antin's seminal essay on the avant-garde use of genre was published in Hungarian translation. He performed in Bratislava, Budapest and Bucharest in the Fall of 2000. In January 2001, he did three performances in Paris and one in Marseilles. Also in 2001, he gave a talk on Mark Rothko in May at the Rothko Symposium at the San Francisco Museum of Modern Art, and performed a talk piece at the Ezra Pound conference at the Sorbonne in July. In November 2001 he gave a talk engaging with Kierkegaard's, Nietzsche's and Heidegger's notions of repetition and recurrence at Notre Dame Dame and gave a seminar on his work. He spoke on the "Dream of Technology" at the School of the Art Institute of Chicago.
From January to April 2001, he was a Research Fellow at the Getty Research Institute in Los Angeles where he was a participant in a symposium on the "Relations between Art History and Art Criticism" in a Rothko Symposium; and in a Symposium on "The Brain, Art and Cognition" at the Getty with scholars from the Stanford Research Center. With Jerome Rothenberg he gave a seminar on "The Art in Poetry and the Poetry in Art" and a poetry performance at the Getty.
Antin's later work continued to explore narrative in both verbal and visual works. This brought him into public art and film with a series of "Micro-Films," slide sequences employing words and images that act as very short films. Two of these were projected as intermission images in the Laemmle Figueroa in downtown Los Angeles in 1999. He completed a film noir, a sci-fi film and a road movie, none longer than 90 seconds. He planned to complete sixteen of these movies and have a retrospective that lasts less than 30 minutes.
Artwork Images: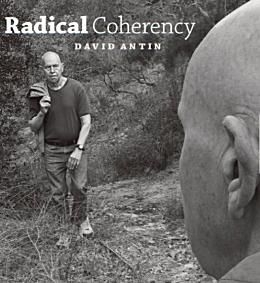 From David Antin's book cover, "Radical Coherency."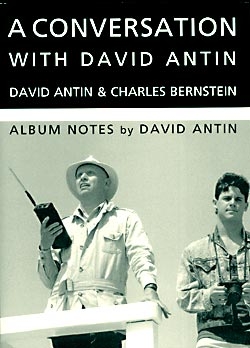 From David Antin's book cover, "A conversation with David Antin."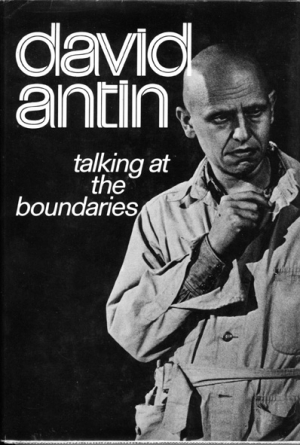 From David Antin's book cover, "Talking at the Boundaries."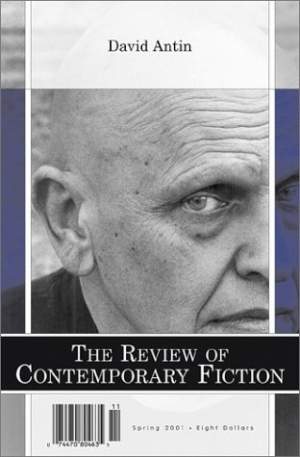 From David Antin's book cover, "The Review of Contemporary Fiction."